Frameworks: stop-motion frame capture
Frameworks is stop-motion animation frame capture software primarily for Linux. Frameworks captures images from a camera and strings them together into an animation. These still images may then be combined into a single video file using other software. Only video4linux webcams are currently supported; work is being done to add other types of digital cameras including IEEE 1394 camcorders, and USB still cameras. Frameworks is designed to be easily used alongside the GIMP Animation Package (GAP).
Frameworks provides an interface to camera brightness and other controls. It captures images as frame_0001.png, frame_0002.png, and so on. Frameworks provides animation assistance in the form of onion skinning: displaying ghost images of previous frames, and continuous preview: continuous playback of the most recent few seconds followed by the live view from the camera. No editing features are provided.
Frameworks is free software licensed under the GNU GPL.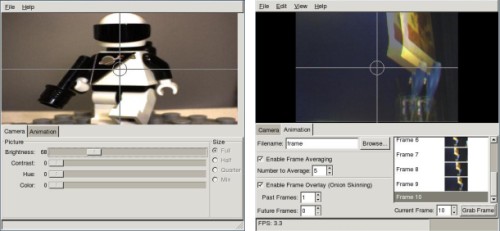 News
Development is currently on hiatus. Sorry.
Mailing Lists & Support
Frameworks has two mailing lists: frameworks-announce is a low volume read-only mailing list primarily for announcements of new versions and frameworks is a general subscribers-only mailing list for all topics including bugs, feature requests, support questions, and developmemnt. To subscribe, send mail with a subject of "subscribe" to the list name plus "-request@polycrystal.org": either frameworks-announce-request@polycrystal.org or frameworks-request@polycrystal.org. See also the announce list archive and the main list archive.
Bugs
Probably many. Use at your own risk.
Todo
Support more digital cameras (IEEE 1394 camcorders, USB still cameras)
Save preferences
Reload previous animation sessions
Proper preview of animation
Much more
Download
Releases
Requirements
(there are no precompiled binaries, so development files are required as well as the shared libraries)
GTK+ 2.x (including GdkPixbuf, GDK, and GTK)
Glib 2.x (threaded)
Libglade 2
Linux kernel with video4linux (>= 2.2)
Webcam that uses video4linux
Debian users: libgtk2.0-dev, libglib2.0-dev, libglade2-dev, and libc6-dev